Welcome Back.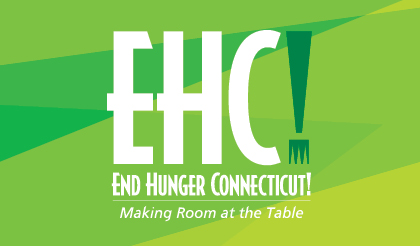 End Hunger Connecticut!
Kelly Design was recently tapped to produce a series of public awareness pieces for EHC! a Hartford-based anti-hunger and food security organization.
We were originally contracted by End Hunger Connecticut! to provide logo design and development services back in 2008. After a 5-year hiatus, the client decided it was time to get back in touch. We are once again proud to be serving the design and marketing needs of such a worthwhile agency and cause. We will be developing a series of marketing and awareness pieces detailing the organizations efforts to raise awareness of the Supplemental Nutrition Assistance Program (SNAP) formerly known as food stamps, as well as materials and marketing collateral focused on Nutrition and hunger issues within the state. We are also pleased to be working with creative copywriter Nicki Palmer of More Than Words LLC.
End Hunger Connecticut! focuses on advocacy, outreach, education and research. EHC! serves as a comprehensive anti-hunger resource for policymakers, community organizations, and low-income families. The work of EHC! is vital to the visibility and coordination of various federal food assistance programs that are meant to lower the prevalence of food insecurity and hunger.  The goal of EHC! is to improve the levels of food security and nutrition among Connecticut families while creating and supporting policies that move families toward self-sufficiency.