Saigon Kitchen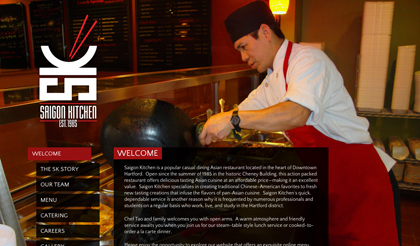 Kelly Design cooks up a new website for The Saigon Kitchen.
The Saigon Kitchen is a popular casual dining Asian restaurant located in the heart of Downtown Hartford since 1985.
The site utilizes a modern, responsive wordpress theme with a unique built-in photo gallery. Page content scrolls while the background images transition to form a randomly generated slide show on every page. An extensive menu is handled through a series of drop down navigation categories in the left sidebar. Client will soon be adding an e-commerce component, offering a variety of sauces and items for sale on the site.
Next time you find yourself in downtown Hartford looking for a quick bite – be sure to stop by and try the SK's signature Hot 'n Spicy Chicken dish!