From the Retro Collection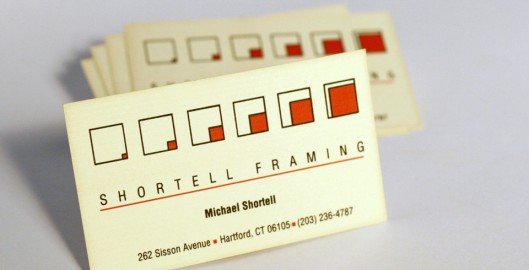 Shortell Framing Logo
The first in an occasional series of posts revisiting some of our earlier work.
This is the first logo that we were actually commissioned to design and were paid for. Designed for a small frame shop (still located on the corner of Farmington and Sisson Avenues) in Hartford where we lived during the mid-eighties. One day my old Datsun 240Z broke down and needed a push out of the cramped parking lot behind our apartment building on Farmington Avenue. It was there that I first met Michael Shortell as he offered to help me to "pop-start" the car and ultimately  – get a jump on things. We struck up a conversation and the rest as they say – is history! We later went on to develop a logo and stationery for his burgeoning gallery down the street. For years we produced a variety of postcards, invitations and posters for many of the MS Gallery's art openings and events.
This card along with anything we created back then; was drawn, "old-school" with a t-square, triangle and Rapidograph pen. Type was either sent out and set as galleys by a local typographic house or created with Letraset, presstype by hand. Photostatic copies were then made, trimmed, waxed and adhered to mechanical boards. Cover overlays were then cut from amberlith film and positioned on top of the mechanical board using a roll of registration mark. Finally, a tissue overlay was attached to not only protect this work of art, but to provide detailed printing instructions for the printer including Pantone colors, bleeds, tints, etc.
We hope you enjoyed this brief look back at our history. We have cleaned out the cabinets, sorted through the files and dusted off the archives to bring you more of these gems from our past in the future. Enjoy!