Buyer Beware!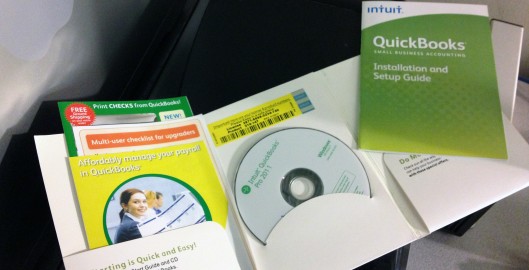 Thought I had gotten a steal on a brand new copy of QuickBooks Pro…
We'll I did – sort of. We needed to upgrade our old version of QuickBooks Pro which we use for accounting. Retail price is over $200 – so I naturally turned to my favorite discount source, eBay. I found a "brand new, sealed" copy for $100 with free shipping – what a deal! It arrived in less than a week in all it's bright, shinny, shrink-wrapped glory. Installation was a snap! We were up and running in no time. The program ran fine for weeks without a hitch. The new interface was user friendly and the learning curve was short. Life was good – that was until one day when I encountered a problem and the app just wouldn't launch. I kept getting the same error code on repeated attempts to launch and figured with the new version freshly installed that I had at least a year of free tech support coming my way – wrong.
After a lengthy conversation with the friendly folks at Intuit (and I mean it – they were great!) I was informed that the copy of QB Pro I had purchased was in fact a fake. What's really unsettling is the extent that these thieves went to in replicating the real Intuit packaging. Right down to the high-quality printing, UV coating, holographic foils, disc art and inserts up-selling other Intuit products. Just check out the photo to see for yourself! My trained eye should have immediately spotted the imperfections in the printing process. The trimming was just slightly off and the telltale moiré patterns of a previously printed image having been scanned and subsequently reprinted were showing throughout. But I had no reason to believe that such an elaborate package was a fake – plus I was anxious to just get back up and running asap. I panicked, thinking that all my data was forever lost and dreaded the laborious task of pouring through old bank statements, invoices and checks in an attempt to put our financial history back together again. Fear not, the Intuit tech support team was not only able to recover all our data, but were able to remotely remove the old version completely and install a brand, spankin' new version of QB Pro 2013 from afar.
Within a matter of hours, the tech support team took control of my PC as I watched them methodically remove the bad stuff and install the new. They even updated our version of Windows and installed a few security patches while they were at it. Now that all our data is safely drifting in a cloud, high above our office in cyberspace, we can return to business as usual, doing what we do best – designing and creating.
The moral of the story is exactly as the old adage says…"if it sounds too good to be true, it probably is".